Description
Living Skog focuses on providing unique and affordable furniture pieces which are meant to make your life easier, without compromising on your comfort or style. We rely only on premium materials, trustworthy suppliers and state of the art manufacturing facilities, in order to meet your rigorous quality expectations. Our designs combine functionality with durability, transforming your living space into a nurturing and warm environment. Should you not be 100% pleased with your purchase, our customer care department is entirely at your disposal!
Alba TV Stand for 65 Inch TV – A Beautiful Decorative Element for Your Living Room
This display console was designed having in mind a modern mid-century Scandinavian style based on geometric lines and superb wooden finishes, adding elegance and practicality to your room! Made with premium quality materials, with a sturdy and reliable design that will last for years, this console table with storage brightens your living room, bedroom or entryway, combining warm color tones with functional drawers that help keep your space organized! Still not convinced?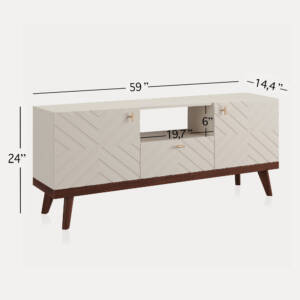 Here are some of the amazing features of this product:
Dimensions: 59 x 14.4 x 24 inches;
Color: beige;
Natural wooden legs;
Non-scratching on delicate floors;
Superb Scandinavian modern style;
Fits TV up to 65 Inch;
Matte doors for a special decor;
Plenty of storage space with roomy drawer;
No visible traces of fasteners;
Suitable for TV console, entryway or hallway console, living room, bedroom and more;
Requires assembly;
Practical design allows vacuum cleaner to go through easily. You'll fall in love instantly with this gorgeous display stand for TV!