Description
The hub of the family home, the kitchen is the place to eat, drink, laugh, and share your special moments. However, sometimes it might seem a small kitchen doesn't allow for any of that. Having a small kitchen isn't the issue. It's having a cluttered kitchen that will stress you out. The solution is finally here with our compact kitchen cabinet.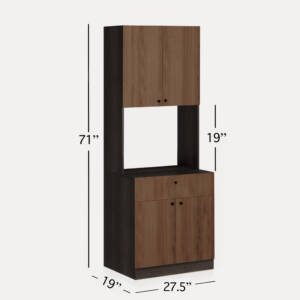 Designed for the smallest of kitchens and apartments, the cabinet will offer you ample storing space, and enough room for one large kitchen appliance such as a microwave, toaster oven, or coffee machine.
Why we're so convinced you will love our kitchen cabinet:
Because it is incredibly convenient. The smart design includes two shelved areas for you to store your kitchen essentials, everything from food to pans and pots, and a drawer for your utensils and cutlery. The open space is guaranteed to fit a kitchen appliance, and the open back allows you to easily plug in your electric devices.
Some of the amazing features of our kitchen furniture:
Modern design, the pantry cabinet features sleek lines and a minimalistic design, and is a great kitchen décor piece;
Premium quality, made from waterproof premium laminated wood chipboard plate to ensure durability;
Versatile, the cabinet is ideal for you dinette, kitchen, or pantry;
Quiet door closing, with added rubber bumpers;
Easy to install, the cabinet comes with a step-by-step instructional YouTube video;
Make the most out of your kitchen!