Description
An elegant high-quality cabinet is a must-have for any kitchen. Designed to store your china, silverware, and all of your kitchen essentials, there's no better kitchen storage cabinet than a classic hutch cabinet. A true staple of classic American design, we've given the timeless hutch cabinet a modern touch to create a truly amazing cabinet! Designed with enough room for one large kitchen appliance, you can place your microwave, toaster oven, or coffee maker, and still have ample room for storage.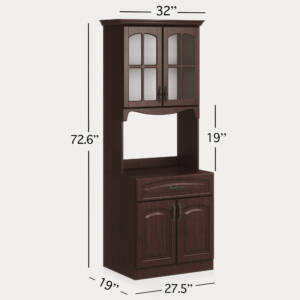 Why we're so convinced you will love our kitchen cabinet:
Because it is the perfect combination of convenience and style. We've retained the classic hutch design, with framed glass doors storage at the top, as well as additional shelved storage and a drawer at the bottom, the modern design features an open space in the center for your microwave or coffee maker.
Some of the amazing features of our kitchen furniture:
Timeless piece, with elegant lines and exquisite handles, painted in immaculate white;
Premium quality, made from premium laminated wood chipboard plate and MDF to ensure extended durability;
Versatile, use the cabinet in your kitchen, bedroom, and even your living room;
Quiet door closing, with added rubber bumpers;
Easy to install, the cabinet comes with a step-by-step instructional YouTube video;
Solve all of your kitchen storage needs in style!