Description
Living Skog focuses on providing unique and affordable furniture pieces which are meant to make your life easier, without compromising on your comfort or style. We rely only on premium materials, trustworthy suppliers and state of the art manufacturing facilities, in order to meet your rigorous quality expectations. Our designs combine functionality with durability, transforming your living space into a nurturing and warm environment. Should you not be 100% pleased with your purchase, our customer care department is entirely at your disposal!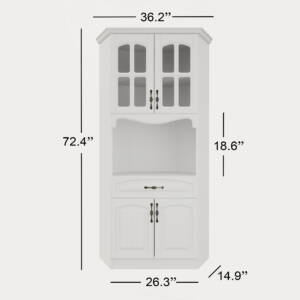 Corner Kitchen Storage Cabinet – The Right Option for Your Home
Our storage cabinet with doors is a classic and timeless piece that looks amazing in any kitchen. The cabinet storage organization is practical, offering plenty of space for kitchen appliances, China, cups, glasses, and other accessories. The simple white design is elegant, featuring superb metal handles that add a beautiful accent of style. Our kitchen organization and storage cabinet is practical and minimalist, offering plenty of storage space.
Some features to keep in mind about our product:
Size: 23.67 x 36.19 x 73-inch;
Color: white;
Features a drawer, 2 framed glass doors storage at the top, and additional shelved storage at the bottom;
Durable and reliable;
Can fit a large microwave;
Ideal for storing cutlery, China, and other accessories;
Elegant metal handles;
Quiet doors with rubber bumpers;
Corner unit for kitchen and pantry;
Stable and secure design.
Keep your home organized with our premium corner kitchen cabinet!