Description
Does your kitchen feel cluttered? Do you have things lying around everywhere, and it's impossible to find what you need? The solution is finally here with our smart storage kitchen cabinet. Designed to fit all of your storage needs, the cabinet features two openings for two large kitchen appliances such as a microwave, coffee maker, or food processor, and extended storage space across four shelved areas and three drawers. Now you can keep all of your kitchen essentials neatly organized with this amazing kitchen cabinet!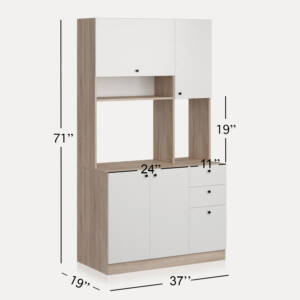 Why we're so convinced you will love our kitchen cabinet:
A large storage cabinet should be the centerpiece in any kitchen, and allow you to store all of your crocks, pans, pots, china, glasses, as well as any dry foods. We know you'll love this pantry cabinet because it is unbelievably convenient, and will solve all of your storage needs!
Some of the amazing features of our kitchen furniture:
Modern design, the oak/ white storage cabinet has a modern design with sleek silhouettes, and will perfectly complement your kitchen;
Highest quality, we make our kitchen furniture from premium laminated wood chipboard plate to guaranteed durability;
Versatile, you can use the kitchen cabinet to store anything from pots and pans to utensils, china, and even food;
Quiet door closing, with added rubber bumpers;
Easy to install, the cabinet comes with a step-by-step instructional YouTube video;
Solve all of your kitchen storage needs with one click!